Remembering the forgotten
Dear Supporter and Friend
Please allow me to share what we have been doing to the poor and hungry people and to single mothers who have nothing of their own. We distributed food for the hungry and helped single mothers live a better life.
CoronaVirus update in Nepal and its effect to us

First death of covid19 in Nepal was on 15 May 2020. Till date (1 Sep 2020) 705560 gave tests, 40539 came out positive, 22178 recovered, 239 dead, others under treatment. Government of Nepal imposed a nationwide shutdown on 24 March 2020 for 120 days. After a few weeks of limited freedom, Nepal has shut down again for the second time from August 17 for an indefinite period.
And poor people are beginning to worry now.
When everything is locked down, all they do is stay in home order. No church gathering, no work, no money, no food. This is really hard for poor people who need to work on a daily basis to feed their family. Poor people mentally become ill, their wives commit suicide. Since lock down, 20 people each day committed suicide.
Image source from myRepublica daily.
Join with us
We are giving away food to the poor families who are victims of shutdown. This is a hard time for workers who depend on daily wages out of labor work. With US$50, a family of 3-4 can eat food for a month, but when there is too much need, we have no options then to split the food. We know the need is great but we did the best we can and I want to thank you, because it was possible only because of your help. We prayed for them and asked God to touch the hearts of the People and so did God. When we give, we actually share the Love of God with them. I believe this is an opportunity to give to someone who needs food today. I encourage you to give and I pray that you receive from above as well.
Helping Single Mom start something of her own
Tula Maya is happy today because her wish has come to fulfill. She has meaning to live now. She lived in a hopeless situation before she received her help.
Tula Maya married a man and has a son who is 12 years old now. She accepted Jesus Christ as her personal lord and s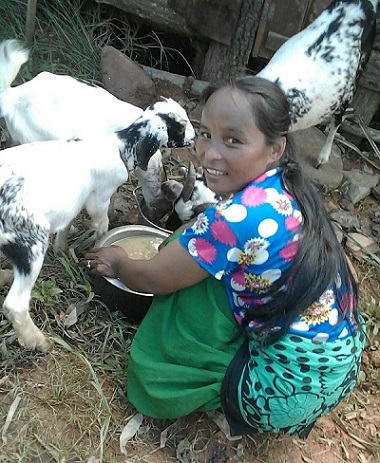 avior. She went to a prayer meeting. There were no Churches because she was one of the first to accept Jesus in the village. Her new found faith was bitterly tested when her husband demanded her to renounce her faith. When she didn't reject Jesus even when she was beaten, her husband forsook her and he married another woman. She was separated and was living in a small home. Her only home was destroyed from the Earthquake and she needed to look for a new place and also labor work to get money for food.
She started to work for a living for her and for her son. When she was no longer able to work during the nationwide shutdown, she was mentally sick of thinking of her future.
When asked a simple question, why don't you get married because you are still young? Her response was really respectful.
I love Jesus more than I love my husband. When you love love, or when you love your feeling, you must be willing to accept the pain. Will I get rewarded if I suffer pain for feeling (earthly love)? But I know if I suffer for Jesus there is a reward for me.
Then, she said, she prayed to God to help her situation. She wanted to have some Goats for breeding but she didn't have money. We were able to help her buy three Goats and now she is very happy. She can keep the Goats for breeding and generate money for herself and son. It was good to help a single mother restart her life.
There are many single Women like Tula Maya who are praying for a better life to start. Door is always open to help. Please feel their pain because they want to live for Jesus.
Jesus said,
'Truly I tell you, whatever you did for one of the least of these brothers and sisters of mine, you did for me.'
We can prevent someone from committing suicide because of hopelessness, we share God's love to them when we give food. We can bring hope to the hopeless and help live their life to the full. Together can fulfill the great commission of Jesus Christ and build God's kingdom through sharing love of God. I want to thank you very much for your help. I do not know how long this shutdown continues but I can see we can still share the Love of God through this situation.
I appreciate your prayers.
R.
We need your support to address the current need of our brothers and sisters in Christ. Please donate