She is a true mother
She is a true mother
By Reuben Rai on July 27, 2015 from Kathmandu
I made a prayer, medical and cash gift distribution trip to Trishuli Bazar today where around 300 Earthquake victims from Dandagaun in Rashuwa encamp in really desperate condition under the mere plastic tent. I talked to Pastor of Ekta Church, Dadagaun-8 in Rashuwa, Dil Bahadur Tamang who lost his wife in Earthquake along other 7 person.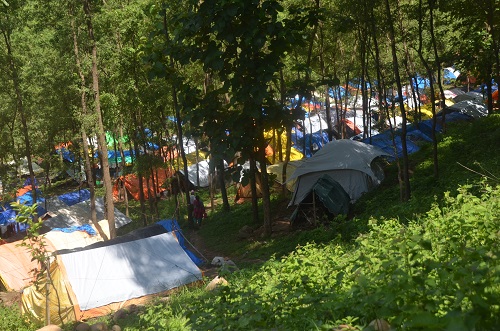 Pastor Dil is left with 6 of his Children now, they are Isaac (12), Jyoti Maya (10) and Amos (5). I asked Pastor Dil, 'why did not you take your children to School?" His answer was touching, 'Sir, we do not know how long we are going to stay in this jungle, we do not have home, no food, how can I take my Children to School?' Back in village in Dandagaun in Rashuwa, the crops they grow are only the corn and millet, since they live in an altitude of 2500 meter from Sea level, near the Ganesh Himal, they built home with stoned wall in the steepy hill. He and many other became truly homeless since their land and home were swept. This is a life of a Pastor in Nepal. But the story I am sharing here is not about him really, its about a mother, who have a heart of gold, a living saint of love, Tula Maya Tamang.
Tula Maya is 31 years old now and live in the same village that Pastor Dil lived. She was married when she was 14 years of age. She and her husband, Bal Bahadur gave birth to a son when she was 20. She was a disciple of Jesus, but her husband was not. But Bal Bahadur accepted Jesus in Malaysia when he went for foreign employment program and came to Nepal but soon after dramatically he was changed for the bad. He started to drink, fight with his wife, Tula. He learned to become Lama and started to hate Christian, including his wife. He started to beat his wife with Motorbike chain and threaten her to take her life with Khukuri, Nepali sharp knife. Only reason of the fight was that she loved Jesus and attended Church regularly. Bal Bahadur gave final ultimatum to Tula, leave me or leave Jesus. Tula told her husband, I can't leave Jesus because He is my everything. Bal Bahadur was very furious and left the home challenging that he will going to get another wife for him. So he divorced her and got married with a woman who already had two children. It was unbearable to Tula Maya, so she went to Kuwait as a domestic helper to help her and her son live better life. Bal Bahadur and his second wife, Chandra, got the child and gave the name Puja and Hissi Dolma.
On 25 April, Bal Bahadur and Chandra, laid the 7 month baby, Hissi Dolma in basket and commanded Puja to look after her sister in absence of mother and father, who both hiked up in the mountain to collect firewood in the steepy hill when 7.9M in Richter Scale Earthquake exploded. Bal Bahadur and Chandra were driven and buried along the rocks of piles of mountain which fall upon them, taking them to the gorge of the mountain where their body were no were to be found. Chandra never returned back to milk her 7 month old baby, Hissi Dolma.
Tula heard the news of the Earthquake in Kuwait and was rushed to home in Nepal. She was at least happy to meet her son alive. She is the same Tula Maya who has become mother of Hissi Dolma, now 1 year old, and Puja, now 5. I asked her a question, 'how did you accept these children of your husband who beat you and threaten to take your life, he even divorced you and married another wife and you are looking to his children?' She said, 'I have already forgiven my husband and I do not have anything against both of them.' Hissi Dolma started to cry, probably because of hunger, was looking to breast to find mother milk, poor child, she don't know she will not get milk from her. I asked her last question, 'how are you going to feed these little guys?' She look to the ground and responded, 'I don't know'. There was a moment of silence and I was standing in front of a woman who has a heart of gold, mother of love. Indeed, she is a true mother.
I asked Pastor Dil, 'every child is going to school with uniform and bag. Why did not you admit your child to School?' He said, I don't have money'. I ask him, let us go to school to talk with principal. He said, 'I don't have money.' I told him I will pay. We went to School and the principal said we will discount the fees as much as we can. So I gave 50$ to Pastor Dil and told him this money is for your two children and for Puja for admission, when Tula heard this, she smile for the very first time after the Earthquake.
To all those who read this, when you support Reuben you are supporting these children too. Please know that there are other needs also and I believe we can be a comfort to needy today. Let us be salt and light to others.
With much love in Christ,
Reuben
Nepal